Super Smooth Facial & Brow Razor
At-Home Stainless Steel Facial Razor
Remove unwanted facial hair with precision using MCoBeauty's SUPER SMOOTH FACIAL & BROW RAZOR - no salon appointment required!
WHAT IS IT?
A high-quality stainless steel facial razor to comfortably remove unwanted facial hair with precision.

WHAT IT DOES:

Gently removes facial 'peach fuzz' and brow hair for a smooth complexion
Creates a smooth base which enhances makeup application
Allows skincare to be absorbed faster
Ensures precision shaving with the small blade and curved handle
Can be used to shape eyebrows
WHY YOU'LL LOVE IT:

Stainless steel blade with foldable handle
Skin feels soft and smooth
Makeup application is enhanced
HOW TO USE IT
1. Cleanse skin and apply a warm towel to soften the skin.
2. Apply the razor lightly to skin at a 30-degree angle.
3. Glide razor in the direction of hair growth.
4. Rinse with water after use and place in a dry and ventilated place.
USE IT WITH
CUSTOMER REVIEWS
Customer Reviews
Write a Review
Ask a Question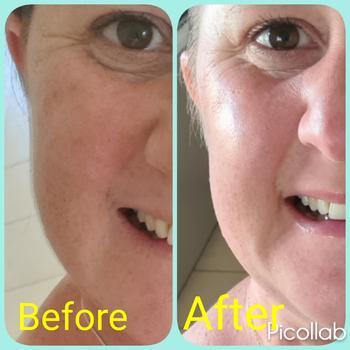 11/10/2021
Super Smooth Facial & Brow Razor
Love it !! I always knew I had a bit of fuzz especially on my outta cheeks but being fair haired it never really bothered me too much but DAMN fuzz be gone forever now ! My skin feels so smooth, looks great and my skincare/makeup absorbs and sits so much better on my skin. Thanks MCo Beauty
Laura W.

Australia
06/03/2022
The pocket knife packaging!
My favourite part of these is the fact that it folds and protects the blade!
Anna

Australia
11/20/2021
Facial razor
Love love love this product
11/13/2021
Great!
This is the second time I have purchased this item, and it won't be the last. Love!
Emma

Australia
11/09/2021
Super Smooth Facial & Brow Razor
I just used this for the first time and I'm really impressed. I knew I has a bit of peach fuzz especially on my outta cheek edges but all that is now gone. My skin feels so smooth, I just moistured and my skin absorbed the moisturiser so much better. Thank you MCo Beauty
10/30/2021
Nifty
I like it. Not something i had considered previously but it leaves a better canvas for you to work with
Nikki

Australia
09/01/2021
Perfect gadget
Great little gadget which does exactly what it says. Perfect for those scraggly little hairs we get when we age!
Alison B.

Australia
07/22/2021
Great!!!!
After just 1 use of this product I'm amazed. Such good value for money. So quick and easy to use. Leaves my skin feeling soft and smooth afterwards. If you don't have this product, buy it! Highly recommend!!!
Amb

Australia
12/10/2019
works amazing
after the first time I used this product it removes all hair that needs to go and leaves your skin all nice and soft.