Mega Balm All-Over Ointment
Multi-Purpose Hydrating Balm
The perfect hydration cure for dry, damaged lips.
WHAT IS IT?
A super potent, richly hydrating multi-purpose balm for the lips, face and body, with a delicious peach scent.
WHAT IT DOES:
Protects, soothes and hydrates dry lips and skin in an instant
Creamy, non-sticky formula glides on with ease
Skin feels nourished and intensely hydrated for hours
WHY YOU'LL LOVE IT:
Peach scented
100% vegan formula
Contains no nasties! No parabens, no sulphates, no glycol, no PEGS 
Ideal for using on dry lips, elbows, cuticles and to keep delicate areas protected
Great for babies! Keep one in every handbag
HOW TO USE IT
Apply directly to the lips and skin. Use generously and reapply as required.
INGREDIENTS
Ethylhexyl Palmitate, Ceresin, Paraffin, Synthetic Beeswax, Polybutene, Caprylic/Capric Triglyceride, Tridecyl Trimellitate, Octyldodecanol, Disostearyl Malate, Phenoxyethanol, Bis-diglyceryl Polyacyladipate-2, Parfum (Fragrance).
USE IT WITH
CUSTOMER REVIEWS
Customer Reviews
Write a Review
Ask a Question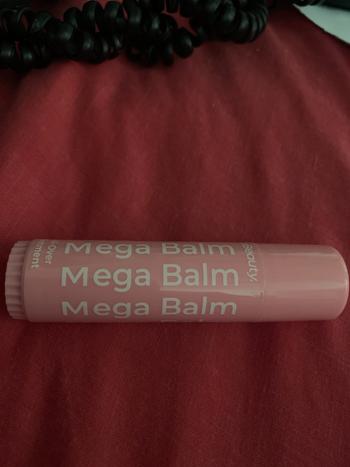 10/30/2021
Mega balm
Awesome! I'm allergic to everything but this. It's great on my lips and dry spots.
Kim

Australia
08/01/2022
Love this flavour
I have the coconut one too but this one is my favourite! and it makes my lips feel nice and hydrated
Liz

Australia
06/15/2022
Lip primer dupe
Great to use as a lip primer before matte lipstick
Julia M.

Australia
06/03/2022
Peach flavour?!
I love all things peach flavoured so I had to try this and now I'm hooked! I had never heard of peeach flavoured balm, this is the greatest thing ever!
Anna

Australia
05/26/2022
Doesn't last long !
My friends and I have all the scents of this lip balm and use religiously- it lasts ages and it so soft on the lips. However, after a few months it starts to smell really bad, like rotted fruit, especially the peach and watermelon (almost like it goes off or expires?); my friends and I all experience this, so I assume there is something wrong with the lip balm?
N

Australia
03/30/2022
Lip balm addict!
I'm a lip balm fanatic and rarely venture out and try new brands and formulas. But I'm so glad I did with this one! Definitely one of the better lip balms I have used and I don't think I'll be going back!! 5 stars
Jaymi-Lee

United States
12/15/2021
Wonderful
Made an ad saying how wonderful it wasClips21-12-15_11-57.mov
Anonymous

Australia
09/10/2021
The best ointment
Amazing product my lips are back to goo after wearing a mask for so long! Great for dry skin
Sarah

Australia
08/20/2021
Sweet gift from the angels
This mega balm is SO good I'm going to have to buy a second one s my boyfriend stops stealing it
Laura H.

Australia
08/11/2021
Absolutely love!
This is THE best lip balm, now have several so I can always use. One in car, bag, jacket etc. Cannot live without!
Ange

Australia
07/29/2021
Mega Balm, Mega Good.
Very impressed; I tend to use only my lips but it's rich, without being heavy.
Anne

Australia
07/29/2021
Love this product
So versatile, beautiful on lips and hands to combat dryness. Love love love!
Lauren C.

Australia